Here's a post-performance shot after a concert by the Amaryllis Chamber Ensemble at Gore Place in Waltham. Yes, we're in a horse stall. Left to right, Bonnie Cochran, flute, Lino Tanaka, violin, me, viola, and Kate Marsch, cello.
Okay, shock time - I, the confirmed sloth-slug-motionless lump, have actually gotten myself into some sort of shape. So this is on a hiking expedition. Look, I have boots and a pack and everything!
You didn't think I was out there alone, did you? Here's one of Kate up a tree, because, well, because it was there.
This one's from a June duo recital Lino and I performed at King's Chapel in downtown Boston. I always did like lunchtime recital series - go, play, eat, back to whatever you were doing anyway.
Don't I look miserable? Trust me, it was miserable. Cold, cold, COLD! Rose was WAY ahead of me, Lino was WAY behind me, and Kate ran a different race... so I have no idea who all those other people are...
Here we are, early Thanksgiving morning, ready to run the Feaster Five - 5 miles, that is. Not bad, except for the uphill ending - cruel!!! Bill, Rose, Kate, and me - Lino bailed. And yes, those are pies we're holding - that's what we got for finishing, pretty good, eh?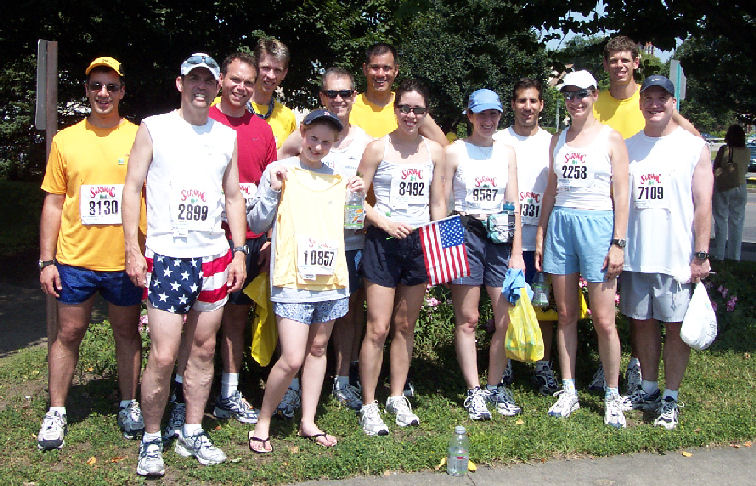 Here we all are, after the Utica Boilermaker, the largest 15K in the country. It was hot, it was crowded, there was a llama somewhere near mile 5, but our whole team finished on our own two feet and none of us needed any emergency services, unlike so many poor folks who got toppled by the heat. Chicks, L-R Jordan, Rose, me, Kate; Guys, L-R Rob, Bill, Brent, Jeff, Steve (aka "Super Steve", the fastest of us at 60:05), John, Chris, Mike, Ian.
| | |
| --- | --- |
| | 25 September 2004 - Janeen Ceparano & Lee Wilkins. Here's the wedding party, outside the Greece Historical Society (great place!), and yes, I know I blinked, it's what I do, just ignore me and look at the pretty dresses, okay? |
| Over Columbus Day weekend, a couple of small furballs turned up in the hydrangeas, and Kate and I and her roommates became surrogate kitty mommies for a while. Did you know that when kittens suck, their ears wiggle? How cute is that! So these are the babies, little gray girl (Jezebelle) and little brown boy (who looked like a small burrito upon first finding, so that's what I called him, despite the fact that "Burrito" is a lousy cat name...). They're about 4 weeks old here. | |
| | In March of 2005, Kate and I hit the trail on an AMC dogsledding trip - this is me with my new buddy, Shout. |
| Boilermaker 2005 was a little cooler than 2004, but I was babying myself through multiple injuries, so it was a slow one. Meanwhile, here we are, sweaty but happy, after the race. | |
| | Blast from the past - Michael came out to Boston for a visit and we decided to go climb a mountain, so here we are atop Mt. Monadnock. Rocky beast, but fabulous view! |
| He also decided to take a few of us out to dinner, so off we trooped to (where else?) Legal Seafoods and stuffed ourselves. I will proudly state that I once again completely disassembled and consumed a lobster without a bib, and without getting any on myself. It's my party trick. | |